October 22, 2022
By Cristen Carson Reat
If I Need Help Offers Creative Low Tech Solution for Those Who May Run or Wander Off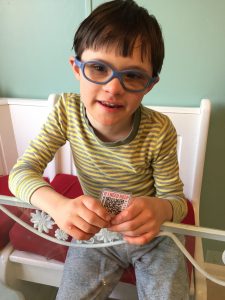 So it happened one day when we weren't expecting it. We weren't expecting it because my son Vincent is not a wanderer or a runner. One spring afternoon when the whole family was home, an open door was discovered, and my 11-year-old son with an intellectual disability was GONE.
A stranger knocked on our door asking if we were the parents of a little boy in a wheelchair with blue glasses? Though Vincent does not use a wheelchair on a regular basis, we use an adaptive stroller when we take frequent family walks. A kindly neighbor whom we did not know discovered my son walking bare feet in our neighborhood and knew something was not right. Though he is verbal, he refused to give an unknown adult his name and address, instead chose to sit in the middle of the street uncommunicative. Thankfully, he was unhurt, though confused with all of the fuss – and we will forever be grateful to a kind-hearted neighbor.
Until that moment, I did not have the constant worry that Vincent may run or wander off, but many families struggle with the daily challenge of managing children or adults who are wanderers. Those with cognitive impairments or limited verbal skills complicate this already frightening scenario.
The Problem
Living in a large urban area, I have seen as many Silver alerts as Amber alerts on billboards across the city, indicating missing seniors or children. Many families I know struggle with the stress of managing an individual who may run or wander off, and in recent years there have been improvements in devices to help track individuals who go missing.
However, when I began to research possible technology solutions following our incident, I found several paid finder/location services available for those who wander – including pet tracking – which require the wearing of a bracelet, tag or some kind of GPS device. The expense of monthly monitoring, that works much like a home security service, was more than we wanted to pay or needed. I doubted that my son who has many sensory issues would agree to wear a bracelet or cumbersome tracker on his clothing, so I was more interested in a low-tech solution that made sense for our situation. That is when I discovered If I Need Help.
The Brilliant Low Tech Solution for those who may run or wander off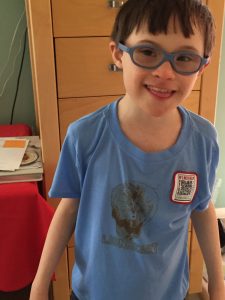 If I Need Help is a parent created non-profit organization that works by using QR Code technology. QR is short for Quick Response and can be read quickly by a smartphone. You may have seen QR codes in magazine advertisements, store receipts, a billboard, web page or even someone's shirt. Once a QR code is scanned, it will show you a clickable URL (website address) to view additional information such as a trailer for a movie, a coupon for a store. Or, in this case, personalized information entered into a secure profile by parents or caregivers. The advantage for caregivers and law enforcement is that scanner apps are free and easily installed onto a smartphone.
If I Need Help creates personalized wearable QR codes in the form of patches, pins, clips, ID cards, shoe tags and more that can be scanned or entered into a secure website to view a live profile. It can be updated in real time and emailed to others, including law enforcement, if a search is needed.
Customizing If I Need Help for My Son – The Set Up
Creating an Account. Signing up for a free account and setting up a profile took under three minutes.
Completing a Detailed Profile. An optional Q&A form can be created, stored, modified at any time, and emailed to first responders, emergency personnel, searchers and other important people. Filling this form out took about 30 minutes, as it includes helpful details crucial in interacting with someone who is lost, scared and stressed. This information ranges from important medical information, communication information (such as verbal or non-verbal), necessary equipment, and helpful phrases to favorite books, characters or a reassuring song, and calming techniques to be used with that individual. I had gathered most of this information, including medical, already stored on an app, so it was at my fingertips and easy to copy and paste into the web-based form on the If I Need Help If you must gather this data from multiple sources, this will add to your set up time.
Selecting the Product. There are a variety of products available to fit nearly every imaginable need from pins, ID cards, shoelace tags, key chains, patches, magnets, shirts, bumper stickers, hoodies, hats and more. Because Vincent struggles with sensory issues I assumed a patch would bother him, a pin unsafe, a bracelet would not be tolerated and because his shoes did not have laces, he could not wear the shoelace identifier. Finally we settled on stickers and a shirt.
Peace of Mind
Why not just use a medical alert bracelet to help those who may run or wander off? Many people have worn and used medical alert bracelets successfully, but companies sometimes charge an annual fee and some individuals simply cannot tolerate wearing a bracelet, such as those with autism, sensory issues, or certain medical conditions. If I Need Help offers a simple, yet powerful solution for as low as $2.00.
Does Vincent wear a patch every day? No, but for those times that our family travels, he goes on a field trip or we make a trip into crowded places in the community such as a museum, park or zoo, using these products give us peace of mind.
Bridging the gap between technology and people with disabilities.
BridgingApps, a program of Easter Seals Greater Houston, is a community of parents, veterans, therapists, doctors, educators, and people with disabilities who share information on how apps and mobile devices can help people of all abilities reach their highest levels of physical, social and cognitive development.